The Regional Municipality of York EMS
York Region EMS provides ambulance and paramedic response services for the 9 municipalities of the Regional Municipality of York.
Completed
2012
The Goal
Development of new 67,810 sq. ft. LEED Gold certified facility and 10.4 acre site development project plus the associated subdivision and infrastructure development. The multi use facility provides offices for administration staff, training and simulation lab space for the Region's 400 paramedics as well as facilities for maintenance of all equipment and vehicles used by paramedics.
The project was developed as part of the Infrastructure Stimulus Fund of the federal government and the team was required to meet very stringent timelines and budgetary constraints in order to meet the objectives for York Region.
The Results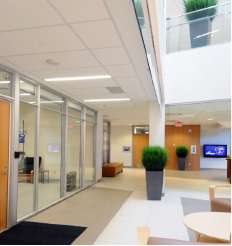 Facilities, site and subdivision development including development planning and new infrastructure delivered well under budget, on schedule with all operational objectives met. The new facilities incorporate state of the art technologies including; Green roof, 10 KW solar photovoltaic array, water recycling system, integrated audio visual systems, computer automated high energy efficiency lighting controls and HVAC automation controls, computerized security system as well as an on-site sewage treatment plant, expanded back-up power and uninterruptible power systems.
Working with all stakeholders and the implementation team, Matrix Management Corp. provided full scope project management and ensured that the Region's expectations were exceeded.
Our implementation planning and project management significantly contributed towards achieving a highly successful project.