Cara Operations Swiss Chalet & Harveys Restaurant
Cara Operations is the owner of restaurant chains that include Swiss Chalet, Harvey's, Kelseys, Montanas, Second Cup, Milestones and Cara, a leading provider of food to the airline and travel industry.
The Goal
To plan, develop and manage the construction of new restaurant locations across North America.
Working closely with all stakeholders, a senior associate of Matrix Management Corp. ensured that Cara's North American expansion program for Swiss Chalet and Harvey's restaurants was handled in the most effective manner.
The Results
Successful delivery of new restaurants in accordance with objectives, delivered on budget and on time. Matrix Management Corp's senior associate's extensive construction management experience gained over a 25-year career greatly contributed towards the successful growth of the Swiss Chalet and Harvey's restaurant chains.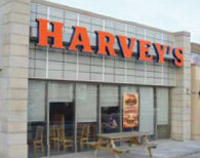 From conception through planning, design, construction and commissioning, every aspect of the projects were effectively managed to ensure that corporate goals were being met.
Matrix Management Corp. provides project management from conception to completion for projects and programs involving a number of projects within a portfolio.